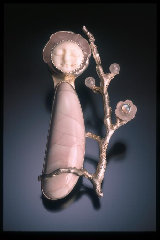 Donna Wilson
ART JEWELRY BY
The jewelry on these pages was created by Donna Wilson. Most items are one-of-a-kind and made in series using
sterling silver sheet, cast silver, designer stones, fossils, pearls, carved bone and semi-precious cabochon stones.
Photos: Robert Diamante
All designs and images on this website are the property of Donna Wilson and are protected under United States and international copyright laws. The photography may not be reproduced, stored or manipulated without written permission.
home
gallery 1
gallery 2
the artist
contact/order